When I think of weddings, I can't help but think of Lionel Richie. The reason is because the first song my husband and I danced to was a Lionel Richie song. Actually, that's not exactly right. I couldn't make up my mind between "Endless Love" and "Truly," so much to my husband's dismay, I chose both songs. Needless to say it was a long first dance.
Flash forward to April 9, 2010. I was scheduled to interview Lionel for the June "Wedding" issue of Luxury Las Vegas magazine and I was hoping that he would be as wonderful as I imagined, or else memories of my wedding day would be tainted.
Everything was set, and then I got a phone call pushing the interview back to the next week.  No problem. I understand celebrities have busy lives and anything can happen at the last minute to change their plans. So we were scheduled to talk on April 16, the very day Lionel was supposed to arrive in New York from Geneva, Switzerland.
That worried me.
Years ago I was a TWA international flight attendant, and as anyone knows who flies a lot, flight delays and jet lag are a common occurrence, and I wondered if the interview would actually take place as scheduled.
The interview was delayed, but not because of jet lag. It was delayed because on April 16, 2010, an enormous, menacing cloud of volcanic ash from Iceland blanketed much of the sky across northern and central Europe, causing thousands of international flights to be canceled.
As reported in the New York Times, there was chaos as people traveling within Europe did everything they could to get to their destinations. Some took trains, some took buses, and some rented cars; while those who had to cross the Atlantic had to just sit tight and wait.
LIFE LESSON: When unexpected things happen in life, it doesn't help to panic or get angry. Hope for the best and be prepared for the worst. Do what you can to remedy the situation and find a solution. If it's out of your hands, then all you can do is change your attitude. Accept what's happening and go with the flow.
Of all days for a volcano to spew ash, I thought. As it turned out Lionel's personal assistant called me and said that their flight had been delayed, but thankfully their plane was one of the last allowed to leave Europe.
He said the interview would have to be pushed back a couple of hours, but that it would definitely happen. If I loved Lionel Richie before, I TRULY loved him even more now!
Sure enough at the appointed time, that recognizable voice came on the line. "Well, we've only been trying to do this forever," Lionel joked. "I thought maybe you'd start to think I didn't exist."
We were off to a great start. So far the wonderful memories of my wedding day were still intact.
Lionel Richie and I were like two old friends having the most amazing, relaxed conversation. From the moment we said, "Hello" until we hung up two hours later it was "Easy Like Sunday Morning." No pun intended, but I could have talked with him "All Night Long."
Lionel is the consummate entertainer. Even playing to a huge crowd, he can hold you in the palm of his hand.
If you take the time to read his interview, I think it will touch your heart as it touched mine. He spoke about being a small boy living across the street from the Tuskegee University campus in Alabama. It was there that he enjoyed an amazing childhood surrounded by black bourgeois intellectuals, including the Tuskegee Airmen, America's first black military airmen. He shared stories about racism and bigotry and how the end of the Civil Rights movement affected his life.
He talked about what fills him with passion and what makes him angry. He spoke with great reverence about his parents and other people who have influenced him like Quincy Jones and Berry Gordy. He was candid about the challenges of being Nicole Richie's father, but it was clear that he adores her as well as his other two children, Sofia and Miles.
On December 11, 2010, Nicole married Joel Madden, the lead singer of Good Charlotte, and had two children—daughter, Harlow (14) and son Sparrow (13)—which makes Lionel a grandfather.
He talked about how music can bridge the gap between cultures on opposite sides of the world, and how people who don't speak English know the words to his songs.
He talked about his most treasured material possessions and with much self-deprecating humor, his greatest strength and his greatest weakness.
When I asked him who he would trade places with for 24 hours, he said, "Wow, wow, wow, what a great question."
This man who sings the most romantic love songs in the world talked about what things to look for in a life partner and what it takes to have a happy and enduring marriage.
He spoke of many things, including the end of Michael Jackson's life and what lies ahead in his future. And of course he talked about "We Are the World," the anthem for humanity that he and Michael co-created.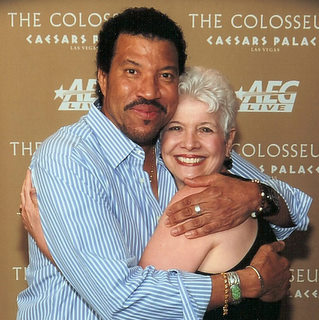 Coincidentally, a short time after the magazine came out with Lionel's interview, he was performing at Caesars Palace. I took a couple of friends to see the show and beforehand we were invited backstage to say hi.
I was excited to meet Lionel face-to-face and once again I wasn't disappointed. He greeted me with a big smile and an even bigger hug. He said he loved the article, and we laughed and talked for about ten minutes before we were escorted to our seats only moments before he walked out on the stage and rocked the house.
There were over 4,000 people at The Colosseum that night, yet Lionel created such a feeling of intimacy, as if he was entertaining you in his living room. It didn't matter if he was sitting at the piano singing a Commodore ballad like "Ballerina Girl," "Penny Lover," "Sail On," "Three Times a Lady;" or if he was bringing the crowd to their feet with something upbeat like "Running with the Night. The songs went on and on and every one of them was a hit.
Reflecting on my conversation with Lionel, one of the things that most impressed me is how fully present he was. He was engaged as well as engaging. He was open and authentic.
LIFE LESSON: Be with people in a way that you would like them to be with you. Are you warm and friendly or do you put walls up that no one can penetrate? Do you ask questions and show an interest in what others are doing or do you hold back and wait for someone else to initiate the conversation? Even worse, is the conversation always about you?
Lionel has been a judge on American Idol since 2018. He has also had several residencies in Las Vegas, and I hope to see him again.
I will always cherish the memories I have of my time with Lionel. Even more important, I am grateful that the memories I have of my wedding day are "Still" just as wonderful.
Read my interview with Lionel Richie that appeared in Luxury Las Vegas magazine.